Makes life easier
The GA500 drive comes with value-adding functions and smart features which offer benefits throughout the entire life cycle of a machine or installation. No matter if it is drive selection, through design, installation, start up or troubleshooting, the GA500 makes life easy.
Programming without power
The GA500 can be programmed without any power supply connected, even while the drive is still in the box. Simply connect to a PC USB port or any USB on-the-go device, start programming, and enjoy the easy commissioning.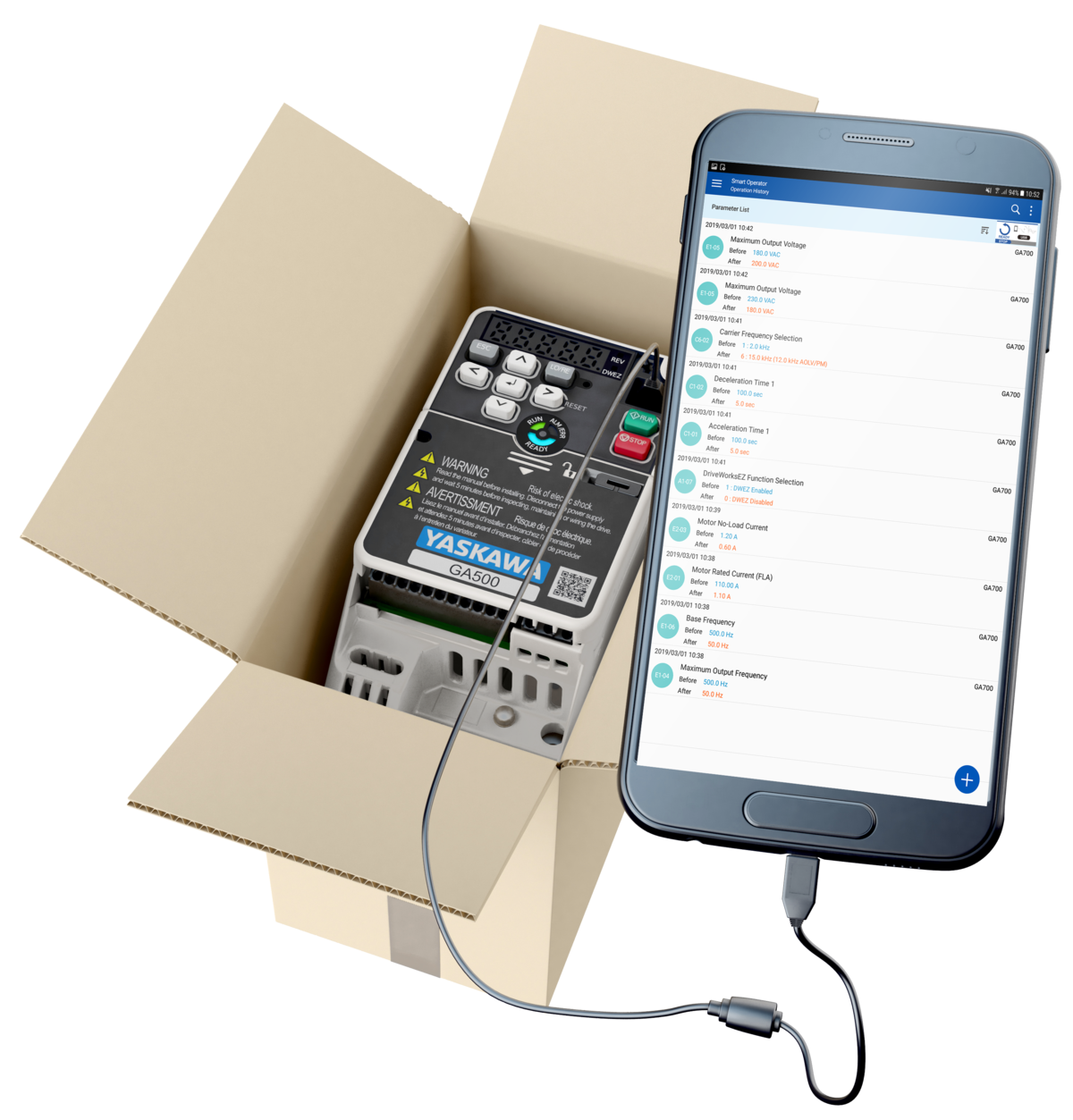 LCD keypad (optional)
Additional functionality
GA500 drives can be programmed and operated with an external high-resolution graphical keypad. Support for 13 languages, a Setup Wizard, and the intuitive full text menu structure simplify drive setup and save valuable time.
Copy function for 4 sets of parameters
Data logging on Micro-SD card
Real-time clock
Available with Bluetooth for connecting a mobile device
Automatic backup function
Standard RJ45 cable connection
Setup wizard
The Setup Wizard reduces the setup time to just a couple of minutes. It guides the user through the basic setup using simple questions which do not require any knowledge of drive parameters, thus saving valuable time.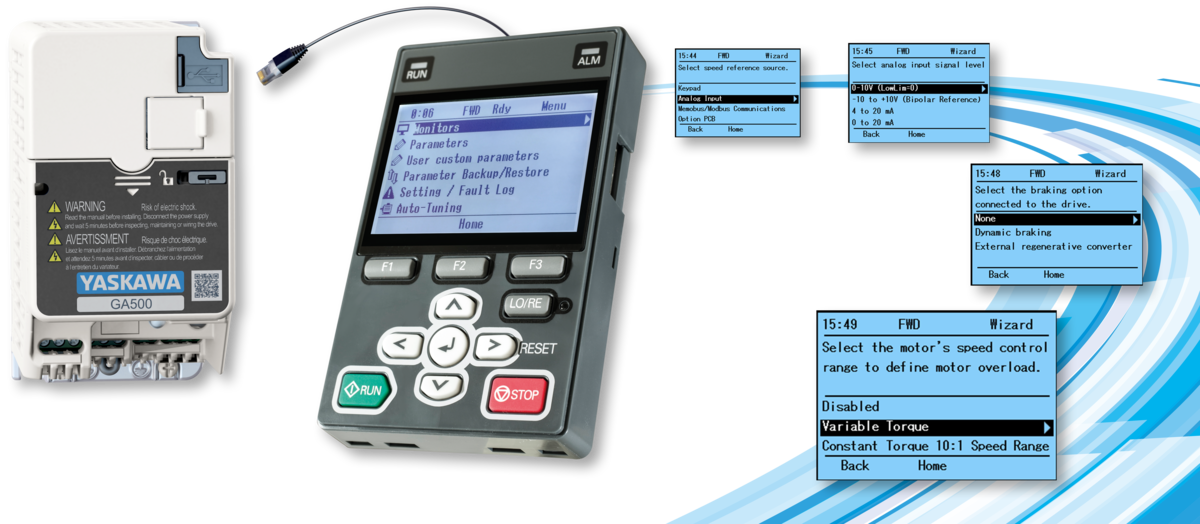 Effortless network integration
GA500 drives support all the major industrial communications and connection topologies for adaptation to a variety of factory automation networks. Tested and verified function blocks allow fast and hassle-free network implementation.
Embedded +24 VDC input
When powering the GA500 through the built-in 24 VDC control power input, network communication can be maintained even during main power loss, thus enabling continuous monitoring and faster startup on power recovery.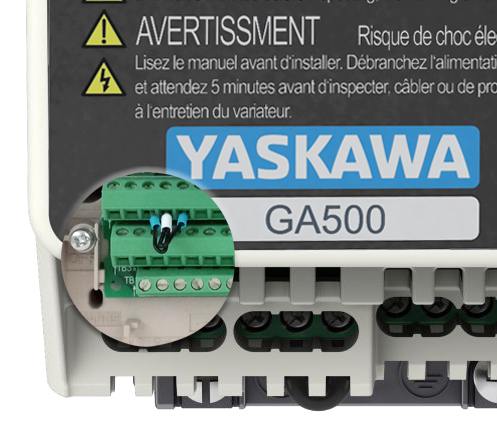 Cost effective network integration
Up to five GA500 drives can be accessed through just one fieldbus option card, thus providing a cost effective solution with less wiring effort.
Easy integration into your network
Supports all major networks and topologies
Cost savings with built-in protocols
RS‑485 MEMOBUS/Modbus protocol
115.2 kbit/s communication speeds
One for all
The GA500 precisely controls induction, permanent magnet, and synchronous reluctance motors, providing the versatility to run a variety of applications with just one drive. With the new EZ Vector mode, the GA500 can run all of these motor types without the need for extensive tuning.
One drive for various applications
Open loop zero speed and torque control of permanent magnet motors
Run induction, permanent magnet, and synchronous reluctance motors with only one type of drive
590 Hz output frequency
High switching frequency for silent motor operation
Time-saving and hassle-free setup of any motor without the need for Auto-Tuning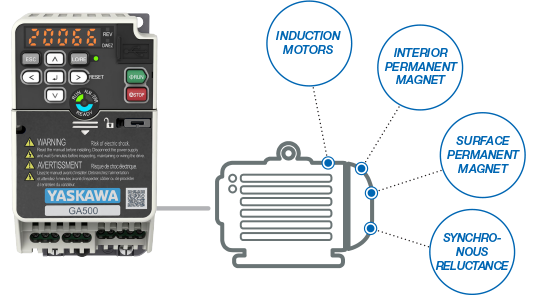 Energy efficient
By reducing conversion losses to a minimum the GA500 operates with an outstanding efficiency of up to 98.5%. In addition, the sophisticated motor control operates motors at their maximum efficiency in industrial applications ranging from simple fans or pumps to compressors, conveyors and a lot more.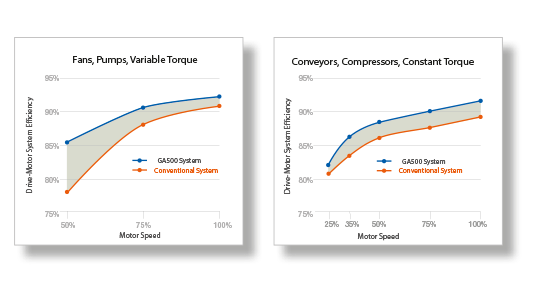 GA500 drives provide enormous potential for energy saving by operating your applications at best efficiency.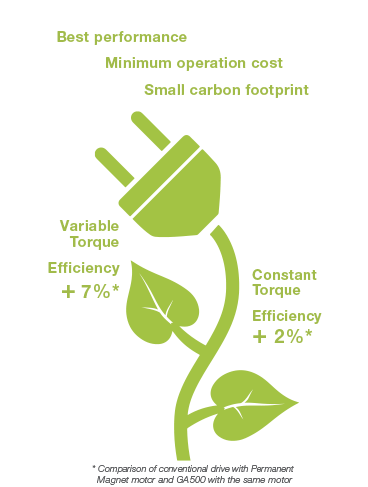 Flexible installation solutions
Regardless of whether you put the drive in a control cabinet, on a wall, in a clean environment, or in a harsh one, the flexible package design of the GA500 enables a reliable operation under a variety of environmental conditions.
External heatsink mounting
With the optional ring kit the GA500 can easily be installed with the heatsink outside the cabinet. By this, in many cases 77 % of the heat loss is moved outside the panel thus allowing for smaller panels, reduced panel cooling or for more equipment in the same panel.
Reduced air flow inside the panel additionally contributes to lower contamination by dust and prolongs service intervals.
Finless drives
The GA500 Finless type is made to be mounted on external heat sinks, water coolers or any other type of heat spreader. This great flexibility widens freedom for machine designers and provides ways for perfect integration with a variety of machine cooling concepts.
Side-by-Side mounting
The GA500 can be mounted side-by-side with bottom entry wiring to reduce cabinet size.
DIN rail mounting
GA500 drives up to 4 kW can simply be snapped onto a DIN rail using an optional attachment, thus saving valuable time during installation.
UL Type 1 kit
For installations that require UL type 1 compliance, the GA500 can simply be upgraded with a mechanical kit.
Built-in options
The GA500 is available both with and without an embedded EMC filter. Both versions share the same footprint and differ only in depth.
Rugged
Designed for 10 years of maintenance-free operation, the GA500 is built tough to withstand even harsh and demanding conditions.
Coated board protection
Coated PCBs as standard protect the electronics from dust or humidity while ensuring reliable operation even in harsh environments (IEC 60723‑3‑3, 3C2, 3S2).
Wide ambient temperature range
GA500 drives can be safely operated in ambient temperatures ranging from ‑10 up to 60 °C. Up to 50 °C, the drives do not even have to be derated and full power can be drawn.
Vibration resistant
GA500 drives can be supplied with an option for higher vibration resistance. With this the benefits of GA500 can be utilized even in mobile or other applications with high occurrence of vibration without sacrificing reliability.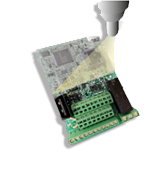 High speed applications
Up to 2000 Hz output frequency
With a maximum output frequency of up to 590 Hz, the GA500 covers a wide range of applications. Should higher speeds be required, the output frequency range can be extended up to 2000 Hz. This, coupled with high over-torque capability and full fieldbus controllability, makes the GA500 an excellent choice for spindle applications in metal or woodworking, but also for centrifuges and other high-speed applications.
Predictive maintenance
Drive self diagnosis
The GA500 constantly monitors wear and tear of its main components. Should a component reach its predicted life time, an alarm is set and replacement can be prepared and installed ahead of a break down. Sudden process stop is prevented and production is secured.
Machine failure prevention
The GA500 can be utilized for sensing the condition of a machine or application. By evaluating signals such as voltage, torque, current, it can detect abnormal conditions like clogged filters, lack of lubrication and others. An alarm is set in time preventing sudden break down and production loss.
Downloads
BROCHURES EN
GA500 AC Micro Drives for Industrial Applications
DATA SHEET EN
GA500 Data Sheet
Already know what you need?
If you already know what you need and just want to make sure we offer the perfectly sized GA500, go ahead to the drive configurator. You will also find the technical data and any downloads you might need – be it CAD files for designing your machine, manuals, CAE files, brochures or software.